PCS season is in full swing. As military parents, we have been through many cross-country road trips. Many of us know how long and boring these trips can be for our kids. Aside from having a DVD player in your vehicle, what else can you do to keep your kids occupied? To save yourself the constant asking of "are we there yet," I have come up with a cheap and easy solution to entertaining kiddos on long car trips.
I'm a fan of being money savvy whenever possible and these activity packs are no exception. Because if we are honest parents, we know how much kids can truly waste. Wanting to spend money wisely these activity packs are for multi day trips and cost under 30.00 to entertain two or more children. So how did I come up with the activity packs, experience, that's how. I have done the long trips and with a long trip coming up in our very near future, I had to come up with a way to keep my five and four-year-old happy.
So how did I keep my budget under 30.00 dollars Easy, say it with me, 1.00 items. My favorite places to find inexpensive items for kiddos is Michaels, Dollar Tree, and the Commissary. Michaels and the Dollar Tree were the main stores for the activities and the commissary is where I could purchase inexpensive snacks to put into the activity packs. Below is a step by step of how I made the packs, what is in each pack and where to find the items.
Step one: is to buy the supplies. You will need 1-2 pencil boxes per kid. You will use the pencil boxes to hold the activities and snacks. I love using pencil boxes because they are small but can hold quite a bit.
Next step is tissue packs. Kids are so messy and often they either have messy snack faces or runny noses. To save me from having to reach back and hand them tissues as needed, they have their own little character packs.
Play Packs. If you haven't heard of them they are these little zip pouches with a coloring book, crayons, and stickers. Pretty much a toddler essentials pack. They cost an entire 1.00 each and can be found in the 1.00 section of your local Michaels store. I took 2 packs for each child, and took out the contents (space saving is necessary) and placed them in one pencil box.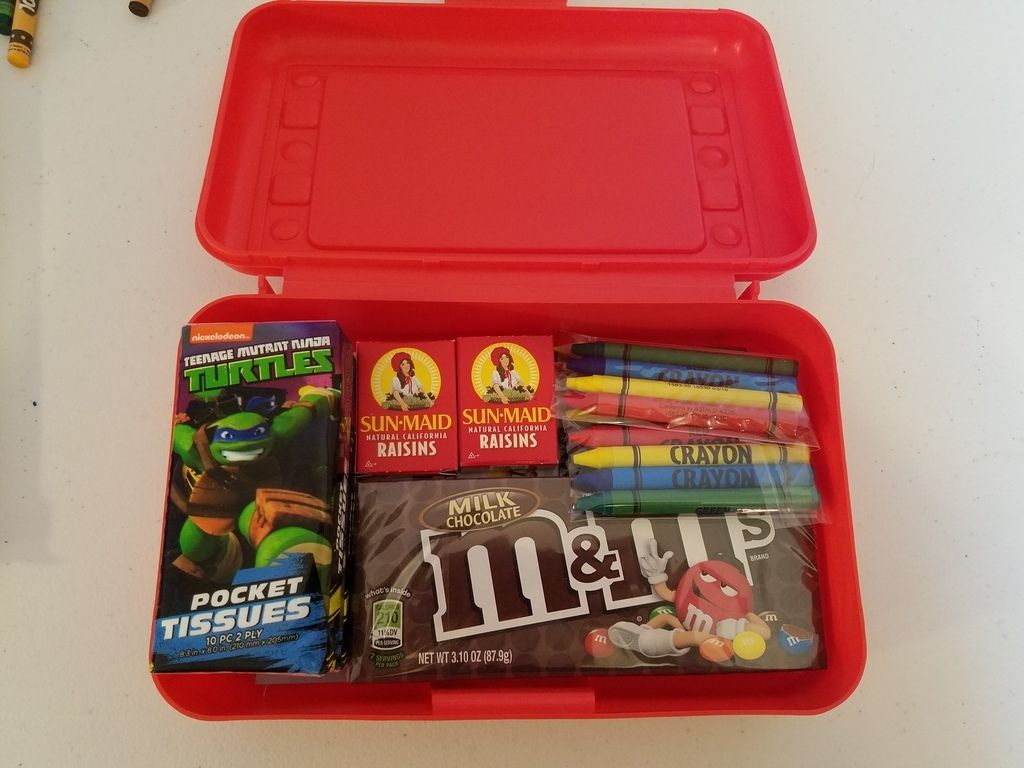 Snacks. Kids eat a lot. Excuse me let me rephrase that, they snack a lot. I constantly hear, "Can I have a snack?" Is it snack time yet? Snacks are a great way to keep your kiddos happy. The only issue with snacks and road trips is road safety. I cannot and will not be turning around to hand out snacks while driving. My solution to snack time in the car, packing individual snacks for the kids in specific character sandwich bags. Why the character sandwich bags you ask, because kids fight over everything. The last thing I want is fighting kids saying its mine or he took it or she has more. So, character bags take away any confusion as to who's snack it is. And I don't have to hear fighting…. hopefully.
Next step is to get some snacks together and separate them into the character sandwich bags. Well why not buy the individually packaged snacks Rose? Well because I like to save money and I like to save money. The snacks I bought for our trip were purchased at the Commissary, let's say it together, money savings. The commissary has great deals on kids snacks and for this trip I grabbed up some banana chips (1.99), Nabisco Snak-Saks Mini Oreos (1.50), and Sunmaid Mini-Snacks Raisin Packs (2.15). Less than 6.00 for an abundance of snacks, thank you Commissary, you are a penny saver for military families. I put my commissary snacks into the second pencil box and included more crayons because the number one issue of crayons, is they magically get lost.
The last part of the activity packs are coloring books. The Dollar Tree and Michaels both sell 1.00 coloring books, yay! I grabbed up six coloring books between the two locations, 3 for each kiddo. I used a large binder clip to keep the books together. For the trip, I will be putting the coloring books in the little sleeves that are behind the front seats. The kids can easily grab out the coloring book from the sleeves and it keeps everything as organized as possible.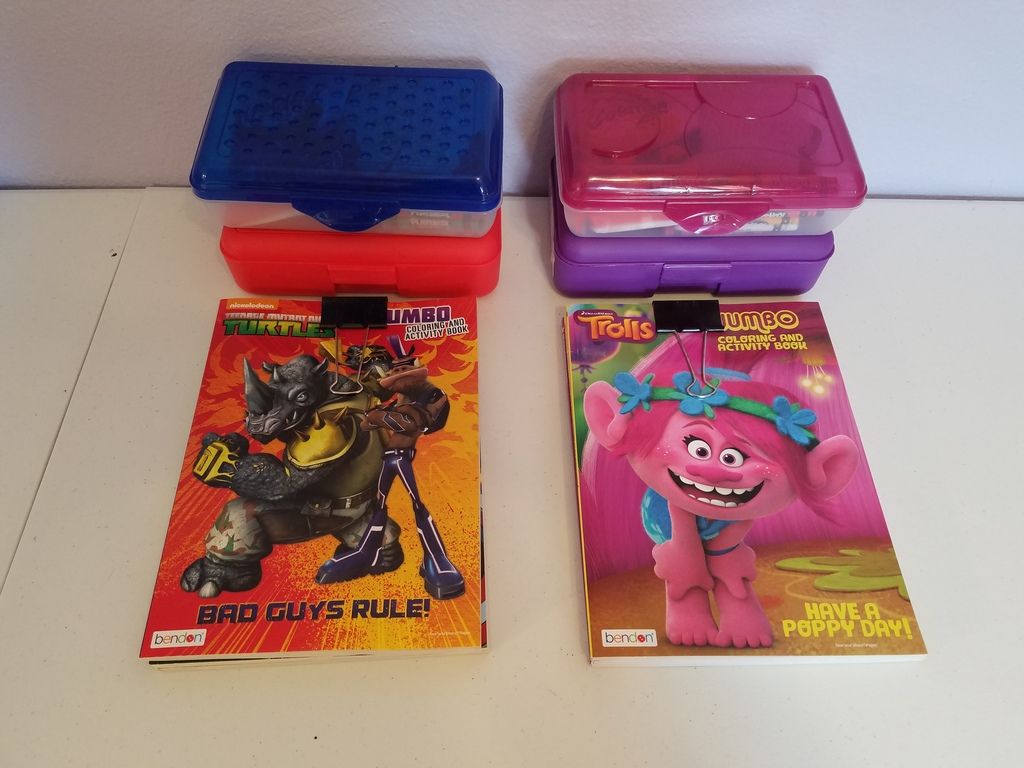 For under 30.00 total I could make 4 pencil boxes worth of activities and snacks and endless hours of entertainment for my kiddos. If you want to save even more money and still put together these activity packs, Michaels offers coupons and a military discount. You can also make your own snacks or use commissary coupons to save even more on purchasing snacks. So, before you hit the road with kiddos in tow, throw together a few activity packs, and enjoy the ride. If you are PCS'ing or have PCS'ed I would love to hear your creative ideas to help kiddos enjoy the trip!