Get your game on with these awesome Coca-Cola® + Nabisco® Commissary and Exchange deals and recipes!
Are you getting ready for the BIG GAME? It's only a few short weeks away, but you'll want to start prepping now, especially with some of these awesome Coca-Cola® and Nabisco® deals and recipes!
HOT Game Day Savings!
RITZ® Crackers are on sale starting 1/16/17 through 2/15/17 (plus, you can print a coupon here!), so be sure to pick them up so you can make some of these amazing recipes below: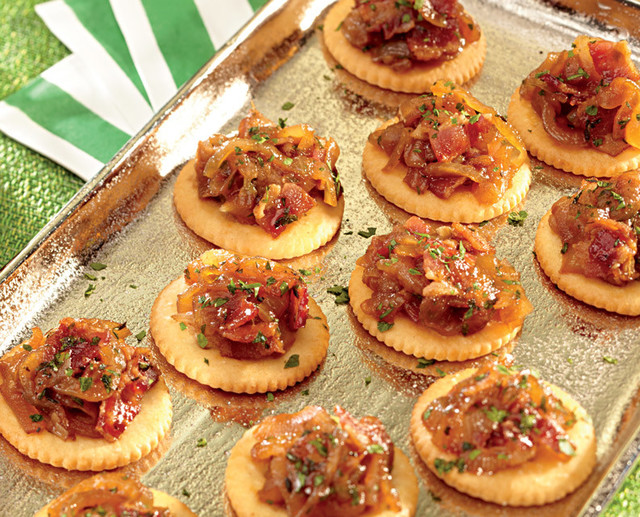 Bacon Jam RITZ Topper
Ingredients
1 lb. center-cut bacon, cut into 1/2-inch pieces
2 large sweet onions, cut each into 4 wedges, then cut each wedge into thin slices
3/4 cup COCA-COLA
5 tsp. brown sugar
1 tsp. chopped fresh thyme
1/8 tsp. ground red pepper (cayenne)
2 Tbsp. chopped fresh parsley, divided
48 RITZ Crackers
Instructions
Cook and stir bacon in medium skillet until crisp. Use slotted spoon to remove bacon from skillet; drain on paper towels. Discard all but 1 Tbsp. drippings from skillet.
Add onions to drippings in skillet; cook 10 to 12 min. or until golden brown, stirring frequently. (If onions are getting too dark or start to stick to bottom of skillet, add up to 2 Tbsp. water to skillet, stirring while cooking to scrape onions from bottom of skillet.)
Add all remaining ingredients except parsley and crackers; mix well. Cook 15 min. or until thickened to jam-like consistency, stirring frequently. Remove from heat. Stir in 5 tsp. parsley. Spoon into bowl. Cool.
Spread bacon mixture onto crackers; sprinkle with remaining parsley.
Ingredients
2 oz. Neufchatel cheese, softened
1 Tbsp. grated Parmesan cheese
3/4 tsp. Dijon mustard
1/4 tsp. garlic powder
1/4 tsp. dried oregano leaves
48 RITZ Crackers
8 slices deli-style Black Forest ham (5 oz.), each cut into 3 pieces
4 ultra-thin provolone cheese slices (1.5 oz.), each cut into 6 pieces
24 dill pickle chips, drained, patted dry
Instructions
Heat oven to 350°F.
Combine first 5 ingredients; spread onto bottoms of 24 crackers. Place, cheese sides up,
in single layer on rimmed baking sheet sprayed with cooking spray.
Top with ham and provolone; cover with remaining crackers to make 24 sandwiches.
Bake 8 min. Top each with pickle slice, securing to sandwich with toothpick. Serve warm.
Slow-Cooked Pulled Pork RITZ Topper
Ingredients
3 lb. pork butt
1 tsp. EACH salt and black pepper
1 large onion, chopped
3 cloves garlic, minced
1 bottle (18 oz.) barbecue sauce
1 cup COCA-COLA®
1 cup COORS LIGHT®
1/3 cup coleslaw
32 RITZ® Crackers
16 baby dill pickles, cut lengthwise in half
Instructions
Sprinkle meat evenly with salt and pepper; rub seasonings into meat.
Combine onions and garlic in slow cooker sprayed with cooking spray; top with meat.
Mix barbecue sauce, cola and beer until blended; pour over meat. Cover with lid. Cook on HIGH 6 – 7 hours (or low 8-9 hours) or until tender. Remove meat from slow cooker, reserving barbecue sauce mixture in slow cooker. Set meat aside until ready to use.
Skim and discard fat from top of sauce. Pour sauce into saucepan; bring to boil. Simmer on medium-low heat 20 min. or until reduced to about 2 cups.
Pull meat into shreds with 2 forks; place 2 cups shredded meat in medium bowl. Add 1 cup barbecue sauce mixture; mix lightly. Reserve remaining meat and barbecue sauce mixture for another use. (See item 7.)
Top crackers with coleslaw, meat mixture and pickles.
How to Use the Leftover Meat and Sauce: Shred the remaining cooked meat; toss with remaining barbecue sauce mixture. Cool completely. Place in freezer container; freeze up to 1 month. Thaw overnight in refrigerator, then reheat just before using as desired.
How to Easily Skim the Sauce: Remove cooked meat from sauce. Pour sauce into bowl. Refrigerate 4 hours. The fat will rise to the top, making it easy to skim and discard. Meanwhile cool meat and shred then refrigerate. Heat with sauce as directed before assembling as above.
RITZ Parmesan Crisps
Ingredients
1 wedge (3 oz.) Parmesan cheese
24 RITZ Crackers
Instructions
Heat oven to 350°F.
Grate cheese, using small holes on box grater.
Place crackers in single layer on parchment-covered baking sheet. Top each with thin layer of cheese, adding about 1-1/2 tsp. cheese to each cracker and letting cheese fall over edge of cracker.
Bake 8 to 10 min. or until cheese is melted. Cool.
TIPS: Substitution – Prepare using RITZ Reduced Fat Crackers. How to Store Store cooled cheese-topped crackers in resealable plastic bag, or in airtight container, at room temperature up to 5 days before serving.
Do you have any favorite recipes that you like to whip up for game day festivities? Be sure to leave a comment below and share your ideas!